ALLE GUTEN DINGE SIND ACHT!
Zumindest wenn es um richtig guten Tequila von Tequila Ocho geht. Denn die Zahl Acht spielt bei Tequila Ocho (="Acht") eine wichtige Rolle. Ich hatte die Gelegenheit mich mit Jesse Estes, dem Markenbotschafter von Tequila Ocho zu unterhalten. Das Interview belasse ich hier auf dem Blog in der englischen Originalfassung. Wer das Interview auf Deutsch lesen will, dem empfehle ich den Übersetzungsservice DeepL.com.
About-Tequila: Hello Jesse! Thank you for being so kind and answering a few questions. Please introduce yourself briefly to my readers in Germany.
Jesse Estes: I am the Global Brand Ambassador and part of the founding family of Tequila Ocho. My background is in hospitality, having worked in bars in London for several years. I regularly contribute to trade magazines and more recently I authored two cocktail books.
TIME FOR MORE CELEBRITIES?
About-Tequila: Traditionalists grumble about it – others see it as a kind of door-opener for newcomers to Tequila. Casamigos by Clooney, Teremana by "The Rock" Johnson, and now Kendall Jenner with her 818 Tequila. How do you see the development of celebrities and their "own" tequila brands?
Jesse Estes: I think it's a complex topic, and one I touched on with my panel at this year's Tales of the Cocktail "Agave Geeks Unite" seminar (this is free to view on YouTube). I personally believe that celebrity tequila brands will bring more consumers to the category. My hope is that these tequila 'newcomers' will start drinking celebrity brands but then realize – through education – that there is much better liquid to be found within the category. In this way, celebrity tequilas will act as a 'gateway' of sorts (or 'door-opener', as you said) into properly-made tequilas. Julio Bermejo, who was on the aforementioned panel, had a different point of view, which was that if these celebrity brands are poorly made (and we know that many are), then this could actually 'ruin' the category for people trying tequila for the first time. I acknowledge this as a real possibility but in this case I choose to take a more optimistic stance!
About-Tequila: If you could choose one celebrity for Ocho Tequila – who would it be?
Jesse Estes: We don't need 'celebrities' – the liquid speaks for itself. In our view Carlos Camarena and Tomas Estes are the real tequila celebrities, most people just haven't heard of them (yet!).
THE BIG AGAVE SHORTAGE
About-Tequila: Let's talk about the current situation in Mexico and the U.S.: agave shortage, commodity price increases for wood, copper… and the "Corona" factor starting last year. Are you also affected by this with your brand Tequila Ocho and if so, how are you currently dealing with it and how are you planning production for the future?
Jesse Estes: Since we only use agaves sourced from our own fields to produce Tequila Ocho, we are somewhat insulated from the blue agave shortage. Sourcing glass for bottles and cardboard for cases seems to be a global challenge, to which we are not immune, but we are making it all work! We have been planning ahead for more production capacity for some time, the recent culmination of which has been the completion of our own distillery at which we have just started producing tequila the week before last. Since Tequila Ocho, Tapatio & El Tesoro have all been experiencing rapid growth, this means more production capacity for all brands going forward.    
About-Tequila: Rumor has it that alternatives to Tequila Anejo and Extra Anejo could be short aged Reposado Cristalino Tequila. This is cheaper to produce and close in taste to Anejos/XAs due to the sweetness/mildness. What do you think about it? Will there be an Tequila Ocho Cristalino soon?
Jesse Estes: At Tequila Ocho we distil only twice and never use chill- or charcoal-filtration processes. So you will not be seeing a Tequila Ocho Cristalino!
I think your point of view on Cristalinos is very perceptive though. Even more than the potential lower cost of production you mentioned, I would highlight that it is a faster way of producing. As you will already be well-aware, sales of tequila are exploding, leading to stock shortages of many major brands and as such speed of getting product is becoming crucial.
While the Cristalino segment is certainly growing by leaps and bounds (and I do not see this trend going away anytime soon), I also observe the Añejo and Extra Añejo Classes enjoying immense growth as well, so I do not think many producers will divert production away from these premium-priced expressions.
TEQUILA OCHO BOTTLE DESIGN
About-Tequila: In Europe, Ocho is available in 500ml bottles. At least the Blanco and Reposado – which I personally think is a great bottle size. The design is also more modern than traditional. An Añejo in 500ml, which would round out the series, is not available. Why not?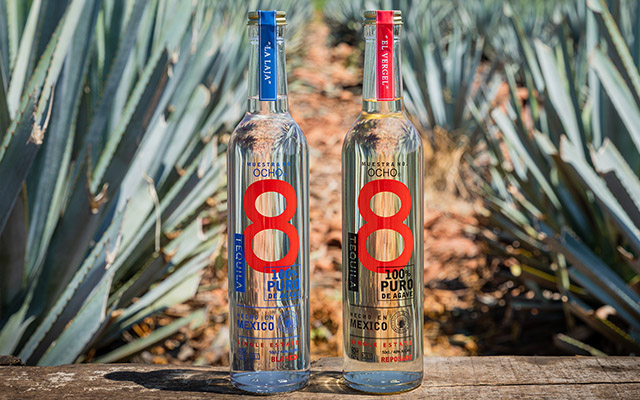 Jesse Estes: We launched Ocho first in the UK and designed the 500ml 'Red 8' bottle to be ergonomic, fun and bartender-friendly (after all Ocho's first accounts were our own venues – Café Pacifico and La Perla bars). The design is screen printed onto the bottle to avoid a paper label getting wet, stained or torn. It is also easy to remove the screen-printing using a metal scourer or the back of a bar knife, and to reuse the bottle for juices, syrups, premixes, etc. When the time came to launch Ocho in the US, this original packaging had two hurdles to entering the US market: First, 500ml size spirits bottles were not allowed in the United States at that time; and second, our US importer wanted to go for a more 'premium' image in their market.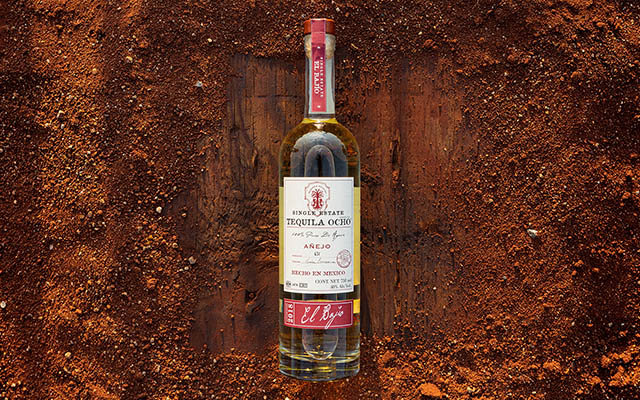 So we designed our 750ml bottle, taking inspiration from the cognac and wine worlds to help reinforce our message of terroir-driven tequila. Both presentations are very iconic, and distinct in image. However, the liquid is exactly the same for each, and both are single-field (the name of the field and year of harvest can be found on the neck label).
When it came time to launch our Añejos and Extra Añejos in Europe, we decided to launch them with the North American design in 700ml bottles. We are very unlikely to move the European Añejo to the 500ml bottle at this point in time as the current design is well-established for our Añejo and XA.
About-Tequila: The limited Red and Black Design bottles of Tequila Blanco are real eye-catchers. Are they coming back?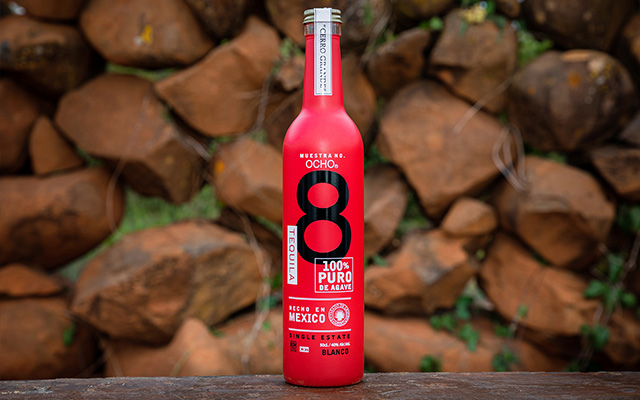 Jesse Estes: Thank you Markus, I'm glad you enjoy them… The answer – sadly! – is No. They were limited edition releases that we will not be bringing back – which makes them collectors' items, so if you can find any left – buy them ASAP!
TEQUILA FOCUS MARKETS IN EUROPE
About-Tequila: Let's take a look at Europe, and in focus: Germany, which according to the statistics of the last few years was usually number 3 of the tequila countries, behind the USA and Mexico. However, the gap in sales figures is enormous. Which countries do you think have the potential to join in soon?
Jesse Estes: Having lived in the UK for the last 12 years, I've seen the tequila market grow by leaps and bounds –in terms of both quantity and quality. People in the UK – and indeed around Europe and the rest of the world – appear to be drinking better quality tequila. Greece is a massive consumer of tequila – the biggest consumer per capita of Tequila Ocho in the world. There is an explosion of great agave spirits being consumed in the Nordics, in large part due to the promotional and educational work by done over the last years by organizations such as the Scandinavian Agave Project. Dutch consumers are embracing well-made, 100% agave tequilas. I think Europe as a whole is really upping its game in terms the quality of tequila people are consuming, which is great to see.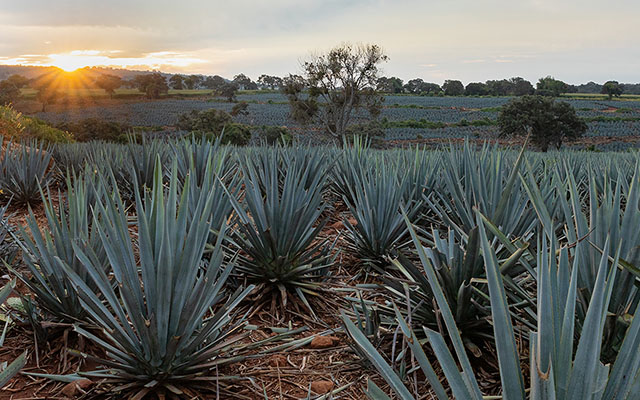 About-Tequila: In Australia, the U.S., South Africa and numerous other countries, agave is diligently cultivated and a tequila-like distillate is produced from it. Even in Denmark, there is now a Mexican-inspired, smoky distillate. So there's a lot of experimentation going on – some of it with quite a lot of development budget. Does it have a future – alongside the original tequila from Mexico?
Jesse Estes: I like to think there is a future in non-Mexican agave spirits. I hosted a blind tasting back in 2018 in which I featured 11 samples of different agaves spirits. The hands-down favorite (before revealing categories/brands) of the audience was a South African agave distillate. Non-Mexican agave distillates are still in a very nascent category, with lots of sub-par quality products out there, but there are some true gems to be found. I believe we will continue to see more activity and innovation in this space.
WHAT ABOUT TEQUILA INSTEAD OF WHISKY, RUM, GIN?
About-Tequila: What do you think is the best argument for somebody, who´s not really familiar with Premium 100% de Agave Tequila, to convince him/her to chose a tequila instead of a whisky, rum or gin?
Jesse Estes: I'll take some liberties here and lay out 3 brief reasons to drink tequila over other spirits:
Tequila's taste: perhaps the most important 'unique selling point', this factor also sets tequila and agave spirits aside from all other spirits categories. Because of the nature of the agave plant itself, the flavor profile created is completely unique.
Tequila's psychotropic effects on us when consumed: The next unique point of agave spirits is the effects they have on us when consumed. The way we feel (i.e., the way we get drunk; intoxicated) when we drink agave spirits is completely different from the types of inebriation brought on from beer, wine, gin, whisky, rum, etc. Most people to whom I speak find that tequila gives them energy and puts them in a good mood. They describe it as an upper/stimulant, rather than a downer/depressant.
Tequila's image: There is a certain 'bad boy' image and a sexiness associated with tequila. For instance, imagine you are chatting someone up at a bar and offer to order them a drink. Would you perceive that person differently if they order a wine white spritzer versus a neat serving of tequila?
About-Tequila: Your personal Top 3 favorite tequila brands (besides Tequila Ocho of course)?
Jesse Estes: Anything made by Carlos Camarena!! – El Tesoro de Don Felipe, Tapatio, Curado , anything made by Siembra Spirits and Siete Leguas.
About-Tequila: Thank you for the interview and good luck with Tequila Ocho!
Jesse Estes: Thank you for the thought-provoking questions Markus!